Custom home in Chestnut Hill, Newton
Boyd4
We are thoroughly enjoying the kitchen and receiving many compliments on it. It looks and works great!
M.S.
Custom home in Newton by RBL Architects
We are all moved in and absolutely loving it! The space is just perfect in every regard.
L.B.
Custom renovation in Wayland, RBL Architects
It just all feels so good – the proportions, the placement of the views, the materials, everything. It's quite stunning.
J.E.
Custom home in Newton
We enjoyed the process, enjoyed working with you and love the results.
M.H.
Custom home in the Berkshires
There are so many wonderful things to look at where wood meets wall, the use of windows, the angles constantly playing with each other inside and outside, the views and much more.
S.C.
Custom new home in Sharon
The house is Fabulous!
N.M.
THE FIRM
Founded in 1997, RBL Architects is a design firm dedicated to fulfilling the needs of the client, the space, and the market. By working together, our goal is to produce a design that is a thoughtful, effective, distinctive, and intelligent solution.
Ultimately, what we do best is listen to our client's needs and solve their problems.
Whether it is an issue with the functionality or layout of their existing space, need for additional space or solutions to deal with the age and aesthetics of a property, we pride ourselves on being able to work in different architectural styles to suit the client, the context and the project budget.
The firm's principal, Richard Levey, is a registered architect with over twenty-five years of experience in the field. Working with clients in the Boston area and abroad, he has been responsible for a variety of projects including single family homes, restaurants, spas, large-scale adaptive reuse and corporate interiors projects. He maintains active architectural registrations in Massachusetts and New Hampshire and is a member of NCARB and the US Green Building Council.
Contact us and let us know how we can make your space more beautiful, functional and enjoyable. We look forward to hearing from you.
PORTFOLIO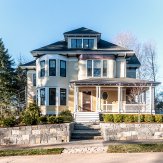 OUR CLIENTS
In addition to over 200 private residential clients, the following commercial and residential companies represent a partial list of clients we have worked with since 1997.
All Interiors Incorporated
Ames Plow Restaurant
AutoPart International
Captain Fishbones Restaurant
College Coach
Coolidge Corner Clubhouse
Elm Bank Studio
El Meson Restaurant
General Growth Properties
The Growth Companies
Hampden Design and Construction
Jobel Realty
Kiosko
Loffredo Brooks Architects
M & J Management
Massachusetts State Lottery
Moodz Salon
Music Go Round
New England Spas and Sunrooms
Pierce Conway Design
Pipette Calibration Services
PS Design
Paul Bernotas Consulting
Red Mango
Sleek Medspa
Spy Pond Condominiums
Stonewall Kitchen
Susan Barba Interior Design
The Sydney Companies
3C Electrical Consultants
Todd Sullivan General Contracting
Travelex
Trimark United East
Wicked Fire Kissed Pizza
Wireless Nation